The Art of Building the Impossible
newyorker.com/magazine/2020/11/30/the-art-of-building-the-impossible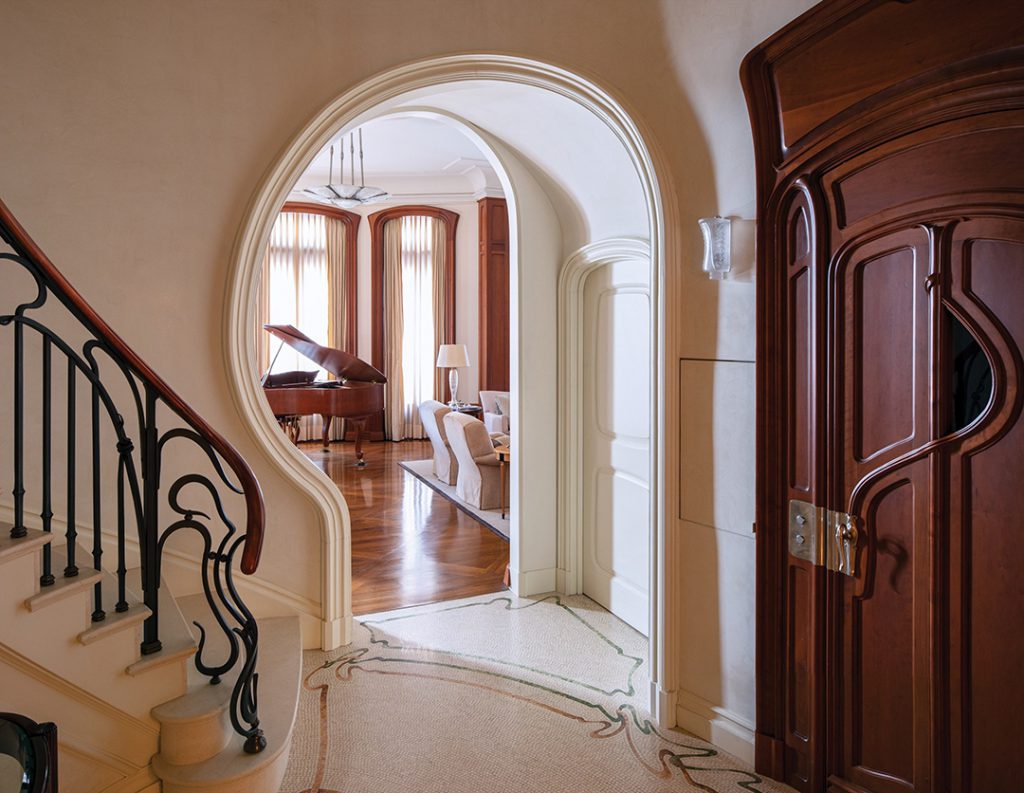 A surprise actor in Vision is intuition—those Aha! moments and gut thoughts which lead to something amazing. Brilliant thinkers such as Albert Einstein and Richard Feynman have discussed intuition in their writings. Intuition absolutely has a place in Vision.
Mark Ellison stood on the raw plywood floor, staring up into the gutted nineteenth-century town house. Above him, joists, beams, and electrical conduits crisscrossed in the half-light like a demented spider's web. He still wasn't sure how to build this thing. According to the architect's plans, this room was to be
the master bath—a cocoon of curving plaster shimmering with pinprick lights. But the ceiling made no sense. One half of it was a barrel vault, like the inside of a Roman basilica; the other half was a groin vault, like the nave of a cathedral. On paper, the rounded curves of one vault flowed smoothly into the elliptical curves of the other. But getting them to do so in three dimensions was a nightmare. "I showed the drawings to the bass player in my band," Ellison said. "He's a physicist, so I asked him, 'Could you do the
calculus for this?' He said, 'No.' "
Straight lines are easy, curves are hard. Most houses are just collections of boxes, Ellison says. We stack them side by side or on top of one another, like toddlers playing with blocks. Add a triangular roof and it's done. When buildings were still made by hand, the process would yield the occasional curve—igloos,
mud huts, wigwams, yurts—and master builders earned their keep with arches and domes. But flat shapes are cheaper to mass-produce, and every sawmill and factory spits them out in uniform sizes: bricks, boards, drywall, tile. It's the tyranny of the orthogonal, Ellison says.
"I can't do the calculus on this, either," he added, shrugging. "But I can build it." Ellison is a carpenter—the best carpenter in New York, by some accounts, though that hardly covers it. Depending on the job, Ellison is also a welder, a sculptor, a contractor, a cabinetmaker, an inventor, and an industrial designer. He's a carpenter the way Filippo Brunelleschi, the architect of the great dome of the Florence Cathedral, was an engineer. He's a man who gets hired to build impossible things.
Ellison is fifty-eight and has been working as a carpenter for almost forty years. He loves machines and fire and precious metals. He loves wood and brass and stone. He bought a cement mixer and was obsessed with it for two years—couldn't stop using it. What draws him to a project, he says, is the potential for magic, the unexpected thing. The glimmer of gems that veins the mundane.
One afternoon in late July, I met Ellison on the Upper East Side, on a leafy side street around the corner from the Metropolitan Museum of Art. We were visiting an apartment that Ellison had worked on seventeen years earlier. A ten-room triplex in a townhouse built in 1901, it was owned by an entrepreneur and Broadway producer named James Fantaci and his wife, Anna. (They sold it in 2015 for nearly twenty million dollars.) Seen from the street, the building had a starchy, Beaux-Arts elegance, with limestone pediments and wrought-iron grillwork. But, once we were inside, its renovated lines began to soften into Art Nouveau, the walls and woodwork bending and folding around us. It was like stepping into a water lily. The door to the great room was shaped like a curling leaf, framing a swirling oval staircase behind
it. Ellison had helped build both, and made sure that they matched each other curve for curve. The mantelpieces were made of solid cherry, based on models sculpted by the architect, Angela Dirks. The dining room had a glass catwalk, with nickel-plated railings and tulip-blossom finials that Ellison carved. Even the wine cellar had a vaulted pearwood ceiling. "It's the nearest I ever got to everything being gorgeous," Ellison said.
As we walked through the apartment, Ellison kept popping open hidden compartments—access
panels, breaker boxes, secret drawers, and medicine cabinets—each one cleverly fitted into the plaster or
woodwork.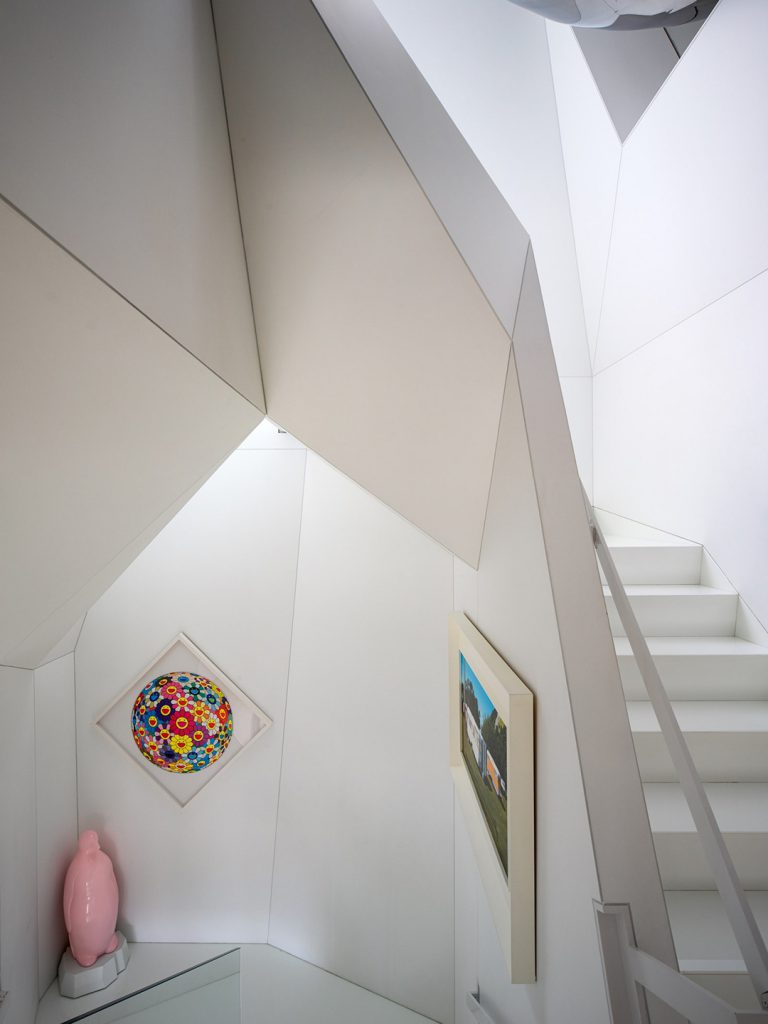 Some projects are too complex for piecemeal work. They're more like car engines than like houses: they have to be designed from the inside out, layer by layer, each component fitted exactly to the next. When the final coat of plaster is laid, the warren of ducts and wires beneath it has to sit perfectly flat, plumb to within a sixteenth of an inch over ten feet. Yet every trade works to different tolerances: steelworkers aim to be accurate within half an inch, carpenters a quarter of an inch, Sheetrockers an eighth of an inch, and stoneworkers a sixteenth. It's Ellison's job to get them all on the same page.
Dirks, the architect, remembers walking in on him one day after he'd been brought on to coordinate the project. The apartment had been stripped to the studs and he'd spent a week alone in the gutted space. He'd taken measurements, laid center lines, and visualized every fixture, outlet, and piece of panelling. He'd done hundreds of drawings by hand on graph paper, isolating problem spots and explaining how to fix them. There were minute crosssections of doorframes and railings, of the structural steel around the stairs, of vents hidden behind crown moldings and motorized shades tucked into window pockets, all gathered into an enormous black ring binder. "This is why everyone wants Mark or a clone of Mark," Dirks told me. "This is the document that says, 'I know not only what happens here, but in every space, in every discipline.' "
The effect of all that planning was more felt than seen. In the kitchen and the bathrooms, for instance, the walls and floors were both unremarkable and somehow perfect. It was only after you stared at them for a while that you noticed the reason: every tile in every row was complete; there were no awkward joints or truncated borders. Ellison had built the room with these exact final dimensions in mind. Not a single tile had to be cut. "I have this memory of Mark sitting there when I came in," Dirks said. "I asked what he was doing, and he looked up at me and said, 'I think I'm done.' It was just an empty shell, but it was all in Mark's brain."